Delivery Methods
PMCentersUSA provides several different training delivery method options for organizations and individuals seeking professional development in project management, business analysis, agile or interpersonal skills development. These delivery methods include:
On-Demand Training
Virtual Classroom​
Traditional Classroom
On-Demand Training
On-demand training from PMCentersUSA provides our Project Management Institute (PMI)® ​award-winning
content with high ROI at a great value for individuals and corporations seeking the convenience of
self-paced learning as part of a professional development program in business analysis or project
management.
Through an online personal Learning Account in our Saba Learning Management System (LMS), participants
have unlimited access to downloadable course materials and recordings 24 hours a day, 7 days a week.
Our on-demand offerings are designed in short, one-hour learning
modules to maximize knowledge transfer.
Offerings vary in total length from our one-hour educational webinars to our 35-Hour Project Management
Professional (PMP)® Boot Camp and all award PMI® PDUs and/or International Institute of Business
Analysis PDs or CDUs, which are required for certification or recertification.
Any number of our on-demand offerings can be incorporated into a corporate training solution to meet
the needs of busy team members seeking the ease of self-paced learning options. We can also work
with your organization to customize on-demand courses as part of an enterprise program for your company.
These customized courses will help to drive adoption of your specific processes or methodologies
and enhance organizational alignment and effectiveness.
For groups seeking readily-available on-demand training aligned to PMI®'s A Guide to the Project Management
Body of Knowledge, (PMBOK® Guide), our Enterprise Value Package is an ideal solution.
Benefits of On-Demand Training include:
Convenient on-demand webinars and training courses designed in short 1-hour modules presented
by our experienced instructor team of Project Management and Business Analysis Subject Matter
Experts
Easy access through our Saba LMS to high-quality PMI® and IIBA®-aligned courses that help promote
understanding of internationally-accepted best practices
Earn and track PMI® Category A PDUs and IIBA® PDs and CDUs
Readily available 24/7 through your online personal Learning Account
More informationCall 888.762.3683 or
email us
for more information about our On-Demand Training.
The virtual classroom learning experience provided by PMCentersUSA is a highly interactive and convenient
method of online training that is ideal for individuals as well as companies seeking a flexible learning
solution to accommodate the needs of their remote team members.
PMCentersUSA virtual courses are delivered online by our experienced instructor team in a technology-rich,
live classroom that promotes active student engagement through a variety of communication methods.
To provide students with the opportunity to apply course theory to project examples, our instructors
facilitate hands-on learning through our virtual break out rooms. By participating in these exercises and collaborating with fellow classmates, students
reap the tangible benefits of a live classroom environment along with the convenience of learning
online.
Standard courses presented in the virtual classroom are delivered in half-day or full-day sessions; however,
private virtual courses that are part of a corporate training program can be scheduled on days and
times that best meet your needs. In addition, private virtual courses can be customized to include company-specific
processes or methodologies to drive adoption and enhance organizational alignment and effectiveness.
Benefits of the Virtual Classroom include:
Engaging online training from a Project Management Institute (PMI)® award-winning Registered
Education Provider and noted International Institute of Business Analysis Endorsed Education
Provider™
Experienced instructor team to facilitate hands-on learning in virtual break out rooms
Flexibility for companies to train remote team members together in a live online classroom environment
using standard or customized courses to enhance organizational alignment, effectiveness and
efficiency
More informationCall 888.762.3683 or
email us
for more information about our Virtual, Live Instructor-Led Training.
Traditional Classroom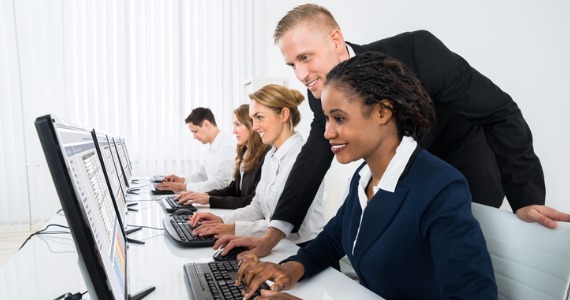 The traditional classroom learning experience provided by PMCentersUSA can be enjoyed in any training
facility across the US as part of a corporate training solution.
Our instructors are Subject Matter Experts (SMEs) with many years of experience managing projects across
a wide spectrum of industries. They bring their broad range of expertise as practitioners and their
real-world knowledge of project management into the PMCentersUSA classroom.
During traditional classroom training, our instructors work closely with students to facilitate knowledge
transfer and reinforce Project Management Institute (PMI)® best practices. Classroom experiences
include a combination of instructor lecture and hands-on learning through group breakout sessions,
case studies, and engaging dialog.
Courses presented in the traditional classroom are delivered during the business day and vary in duration
from one to five days. Private training clients can establish training schedules that best meet the
needs of their teams.
Certificate of CompletionWhen students successfully complete our training in the traditional classroom, the instructor awards
a Certificate of Completion. The Certificate is suitable for framing and includes the course
name, number, and the number of PMI® or IIBA® credit hours earned for the purpose of certification
or re-certification.
More informationCall 888.762.3683 or
email us
for more information about our Traditional Classroom Training.